If you thought it was cool when franchise-killer X-Men: Dark Phoenix and Luc Besson's latest facepalm to the male gaze, Anna, came out the same day this summer, imagine walking into your average multiplex almost exactly 35 years prior. The big conundrum on June 8, 1984: Should I see Ghostbusters or Gremlins?
Yes, two unanimous-admission comedy-horror Hall of Famers were unleashed on the same Friday! These "kid-friendly" classics are—at least in part—beloved for their ample violence, inventive profanity, and awkward sexual politics, a bouillabaisse that helped to cultivate an entire generation's questionable-bordering-on-problematic sense of humor and scruples (your humble author included).
So, let's take this final week before Halloween to honor Gremlins and Ghostbusters with some appropriately unconventional power rankings. Obviously, the body count is nowhere near through the roof for either film (although, alongside Indiana Jones and the Temple of Doom, Gremlins incited MPAA pearl-clutchers to concoct the PG-13 rating, first slapped on delightful xenophobic wonderland Red Dawn just months later in August of '84). That said, both feature a smorgasbord of creatures, apparitions, and flesh-and-blood humans with the most ruthless of intentions. Here's the definitive grade on 20 of our favorite affronts to decency. Some material may be unsuitable—parental guidance is advised.
---
20. RAY'S DREAM GHOST
The only thing she kills is the sex drive of every audience member by exposing Dan Aykroyd's tighty-whities and B.J. face.
19. SLIMER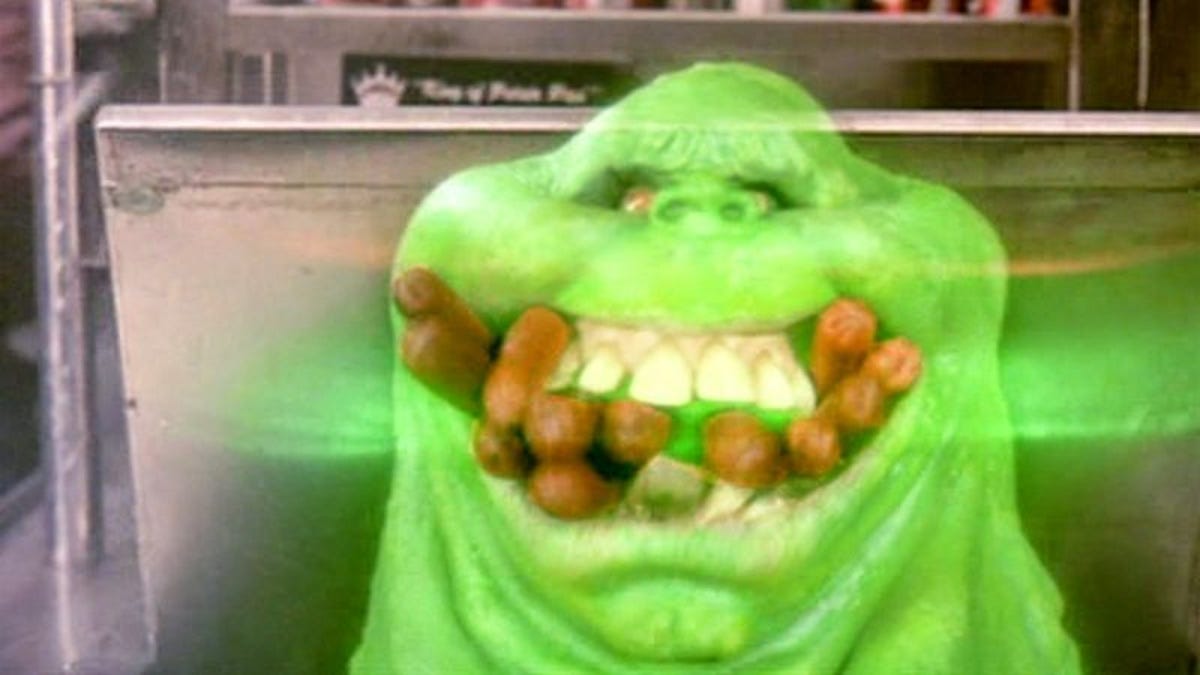 The only things he kills are hot dogs. Although, in that respect, he's a mass murderer.
18. THE TAXI DRIVER GHOST
Is there a deleted scene where he kills his yuppie fare, or is that implied by careening the wrong way down a one-way street? Or does he simply inconvenience the yuppie by dropping him off at the wrong cross street? Upon entering through the exhaust pipe, does he possess the original cabbie or just kick him out the driver's side door? Too many questions to land him anywhere other than the bottom. Sweet newsboy cap, though!
17. GIZMO
It's so lame when people (generally the kinds of people who think Gremlins 2: The New Batch is clever or subversive) take joy in seeing Gizmo tormented. He is a proficient instrumentalist (trumpet, keyboard) with perfect pitch, expresses an interest in black and white cinema, exhibits earnest empathy for human loss (the look on his face when Kate reveals that the rotting smell in her chimney was the corpse of her moron dad trying to surprise the family as Santa), and is an outstanding driver. Yes, Gizmo gets fucked up the entire movie—he cracks his head open after alleged caregiver Billy Peltzer flashes a mirror in his face, is used as a dartboard, gets chucked through a laundry chute, and is patronized by drunk suburban cops on a power trip, among other indignities—but when Billy can't handle Gremlin ringleader Stripe one-on-one despite a 150-pound weight advantage, who shows fearlessness and improvisational acumen when it matters the most, opening the Montgomery Ward skylight and sending that mohawked asswipe to hell? Gizmo rules hard.
16. WALTER PECK
Character actor extraordinaire William Atherton is the "glue guy" who has elevated films like Real Genius, Die Hard, and Bio-Dome with his uniquely slimy, villainous presence (okay, maybe not Bio-Dome, in terms of both elevation and actually being the villain). But he's never been more memorable than his turn as Ghostbusters' "dickless" EPA advocate (again, we sure he's the bad guy?) Walter Peck. He cannot sanction Peter Venkman's buffoonery, hence does everything in his power to shut down the firehouse containment unit, then gets the Ghostbusters arrested upon the not-entirely-unbelievable claim that they're releasing hallucinogens to make New Yorkers think they're seeing ghosts. Not a violent man (violently officious, maybe), but he's the catalyst for human sacrifice, dogs and cats living together, and mass hysteria, so he gets a bump on this list.
15. PETE FOUNTAINE
"What's up with the youth," indeed? Full-grown adult protagonist Billy's only friend is a 13-year-old boy, Pete (Corey Feldman in give or take his fourth-best role), whom he invites into his attic bedroom to read comics while he changes. That invitation, of course, did not extend to Pete clumsily spilling water on Gizmo, breaking one of the three cardinal rules of Mogwai ownership. Which, to be fair, Billy was too dense to not tell his little buddy immediately upon introducing him to a new species. Pete eventually makes up for the faux pas during the siege on Kingston Falls by knocking little green assailants off his roof with not only sniper-caliber slingshot accuracy, but by shearing the Christmas lights that various Gremlins are dangling from with scissors (don't try this at home, lol?). Like most adolescent boys, he's kind of a prick, but resourceful enough to be of value.
14. THE LIBRARY GHOST
Kills nobody, nor does she try to, but retires undefeated in "scaring the shit out of people who fuck with her" at 2-0. First the prologue's poor New York City Public Library employee (although it is a "big yes" that there's a history of mental illness in her family), then two-thirds of the yet-to-assemble Ghostbusters when they clumsily explore the disturbance. Outlier Peter Venkman is laughing about it roughly five seconds later ("'Get her!' That was your whole plan? 'Get her?'"), although part of the character's charm is his nonplussed reaction to everything supernatural in this film. Either way, Library Ghost does one of her two jobs extremely well. Stacking books like no human being on earth? Up for debate.
13. THE BIOLOGY LAB GREMLIN
You may be shocked to learn that African-American actors do not fare well in these particular '80s blockbusters. Ernie Hudson's substantial backstory as "fourth Ghostbuster" Winston Zeddemore was completely excised from the final script, and Glynn Turman's curious middle school biology teacher Roy Hanson is the first human to bite it in Gremlins. So, we don't want to give Biology Lab Gremlin too much credit for brutally murdering the guy as petty revenge for a blood draw ouchie. But he must be acknowledged because he actually killed somebody. If you're curious, this particular Gremlin is named Earl (not voiced by Jason Lee). That is, if you take the kinds of people who make Gremlins-specific sub-Wikis seriously. Which any rational human being should.
12. MRS. DEAGLE
Yes, this slot probably should have gone to the Christmas Caroler Gremlins, who distracted the film's principal human antagonist while Home Invasion Gremlin tinkered with her elevated railway chair, eventually sending the old bat flying out of her mansion's third-story window. But, much like Mogwai Stripe (see: #7), she makes the most of limited minutes, in short order threatening to put Billy's dog Barney in her spin-dryer on high heat, feigning a heart attack when Barney pounces on her (only to lick her affectionately), threatening foreclosure on an impoverished family at Christmas, and gearing up to hurl a pitcher of water on what she mistakenly presumes are caroling children. I think these are mostly good qualities. She also wears an exquisite wig in public and is a loving cat owner. Truly an unforgettable misunderstood eccentric.
11. VINZ CLORTHO, TERROR DOG
If you can get over the amusingly outdated animatronics, the Terror Dogs (yes, that's their formal name), who burst out of gargoyle-esque statues to track down and possess Louis Tully and Dana Barrett, are probably the scariest part of Ghostbusters. The one who crashes Louis' goofy networking party and chases him all the way to Tavern on the Green is Vinz Clortho, i.e., the Keymaster of Gozer. Points deducted for not eating Louis alive in front of the hoity-toity evening rush; points un-deducted for facilitating Rick Moranis' greatest performance. Yes, have some!
10. THE MAILBOX GREMLIN/REVEREND BARTLETT
We have no idea if Kingston Falls' resident reverend was a devout man of the cloth, under investigation by the Boston Globe, or somewhere in between, but we do know he is an accessory to murder. Reverend Bartlett knew goddamn well there was something not right with that mailbox, and still let pipe-smoking Mr. Anderson jam his arm inside, where it was promptly torn to shreds. That guy died right then and there. The insidious workings of organized religion strike again.
9. EGON SPENGLER
Other than Ray, he was the only Ghostbuster who knew what the hell he was doing at any point in the film. (Pete just wanted to monetize the idea and get laid—not in any particular order—and as aforementioned, the screenwriters gave Winston jack and shit to do other than smoke.) Egon singlehandedly saves the world with the crossing-the-streams Hail Mary, yet falls in the middle of this list for valuing brains over brawn (notable exception: being the lone Ghostbuster to attempt to physically harm Walter Peck). Not as accomplished as Venkman as a ladies' man, but much less sleazy, unless "I collect spores, molds, and fungus" is some nasty euphemism you need a 160 IQ to understand.
8. THE SNOWPLOW GREMLINS
Despite this modern classic sketch, there has been a weird uptick in "Gremlins 2: The New Batch is better than Gremlins" chatter over the last 10 or so years. The main argument: "Gremlins 2 is like a Looney Tunes cartoon come to life." Well, so was Space Jam, and that sucked, too. If you want to watch Joe Dante do "Looney Tunes cartoon comes to life" right, check out his adaptation of "It's a Good Life" in 1983's underrated Twilight Zone: The Movie. Anyway, one of the many stupid and witless things that happens in Gremlins 2 is the magical resurrection of paranoid racist lush Murray Futterman and his wife, who are run down by a snowplow in the original. Snowplow Gremlins, we speak your name.
7. MOGWAI STRIPE
Although the filmmakers deny it, you know the Critters franchise only exists to expand Mogwai Stripe's story. In limited screen time, he a) tries to bite off Pete's finger seconds after being born, b) ruins Christmas morning for Gizmo and tormented family dog Barney by hocking a loogie at them, and c) masterminds a plan for criminally negligent Billy to feed him and four other Mogwai after midnight, igniting an orgy of murder, assault, and property destruction that would eventually require military intervention. Hollyweird continues to placate mouth-breathers by spending zillions on Fast and Furious sequels and spin-offs; they can't throw us a bone and give us 90 minutes of Mogwai Stripe tearing shit up?
6. BILLY PELTZER
Despite getting dunked on by aforementioned antihero Mrs. Deagle, resident bank kiss-ass Gerald Hopkins (Judge Reinhold, one of the era's finest scene-stealers), and Stripe twice (claw-swipe in the YMCA, near chainsaw-gutting in Montgomery Ward), Billy did come up with the idea to blow up the Kingston Falls Movie Theater, giving him arguably the highest kill count of either film. At least 300 Gremlins met their untimely demise—mostly offscreen, sadly (although in the ensuing chaos, we are treated to the inexplicable sight of a trembling, surgical mask-clad Gremlin brandishing a butcher knife as his brethren are incinerated). Yes, Billy's general dumbassery directly leads to his hometown getting overrun by scores of monstrosities, but he does what he's gotta do to turn the tide (extra credit for beheading Christmas Tree Gremlin with a decorative sword, saving his otherwise more than capable mother, Lynn). Inconsistent, perhaps, but the numbers are on his side. Independent comic auteur Billy Peltzer is a killing machine.
5. SKI MASK GREMLIN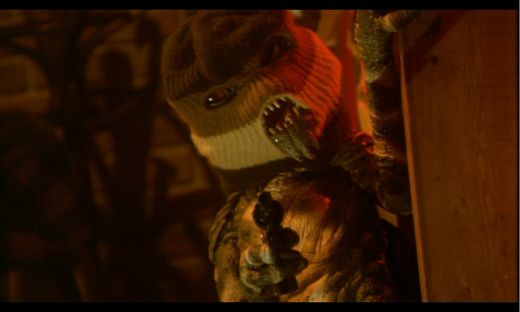 This dude means business. Easily the scariest Gremlin, would absolutely have gunned Kate down in cold blood at Dorry's Tavern were it not for a well-timed headlight flash courtesy of Billy's crappy VW Bug. I wish there were a realistic way to dress as him for Halloween; I mean, I eat plenty after midnight and avoid sunlight, but I've never looked this cool. He was not into cheering up his boy with sock puppets or random aerobicizing. He was into ending lives. Would be slotted higher if he were actually good at it.
4. MR. STAY PUFT
Varg, Samoth, and Faust have nothing on Mr. Stay Puft, who doesn't simply set a church ablaze like some amateur teenage edgelord—he curb-stomps it. And you know people were in there, too. Manhattan had been besieged by free-roaming apparitions since mid-morning, so imagine the number of panicked urbanites seeking solace at religious institutions across the city. Not to mention, how many of those uniquely New York punishers hawking their own stand-up demos did the big man take out simply by strolling down the street? Mr. Stay Puft is visibly psyched to clean up the city's zealots and charlatans until future MAGA stan Peter Venkman brays, "Nobody steps on a church in my town," and our happy-go-lucky sailor gets shredded by proton guns. The look of sheer confused hurt on his face as he stares up at his assailants has haunted a generation. Truly one of the good guys.
3. GREMLIN STRIPE
https://youtu.be/U0jNNWr35aY
His legendary exploits are well-detailed throughout this piece. Let's just take this opportunity to add that he's an exceptional poker player.
2. GOZER THE GOZERIAN

Makes an excellent effort to kill everyone everywhere, starting by force lightning-ing our four heroes practically off the roof of 55 Central Park West simply for not being gods. Would have succeeded, too, were it not for Egon's quick (arguably fluke) thinking to cross the streams. Otherwise, Gozer's plan for destroying the world ran to a T. And what a résumé: worshipped by the Hittites, Mesopotamians, and the Sumerians! Could have co-headlined an East Coast run with Peaches. Perhaps a negligent dog owner, as Louis Tully and Dana Barrett would surely have been more effective as killing machines than statues, but minor quibble. It's Gozer's world—we're all just sub-creatures.

1. LYNN PELTZER
Words don't do this woman justice. Watch her in action in the film's most satisfyingly savage sequence. Yeah, fine, she eventually blows it by backing into a Gremlin-infested Christmas tree, but let's be real: You'd be brave enough to go in the living room after what just happened in that kitchen? Major bonus points for fooling us into thinking she's a well-adjusted member of society by crying at It's a Wonderful Life and tolerating her husband's obsession with sucking as an inventor. Billy's mom has got it going on.
---