This past weekend was the annual NAMM show in Anaheim, California, where music gear makers big and small unveil their offerings for the upcoming year for a crowd of retailers, working musicians, hobbyists, and obsessive gear nerds. It's Comic Con but with boutique effects pedals and high-end reproductions of classic 80s digital reverb units instead of superhero movies.
Like superhero Hollywood, the music gear industry is in the middle of a period of wild experimentation. More major technological advances hit the market each year than there used to be in a decade, while players and manufacturers both have started to develop a taste for the weirder, funkier aspects of vintage gear. Music makers are open to any crazy-ass sound or interface that designers can come up with, and designers are rising to the challenge with wave after wave of concepts that make MIDI saxophones look as mundane as a mass-market Strat.
Long story short, NAMM is a lot more interesting these days than it used to be back when a minor update to a Steve Vai signature Ibanez qualified as a big deal. I spent the weekend watching the show from Instagram, on the lookout for wild and weird gear. Here are a few of my favorites.
---
KORG'S NICE-ASS KEYTAR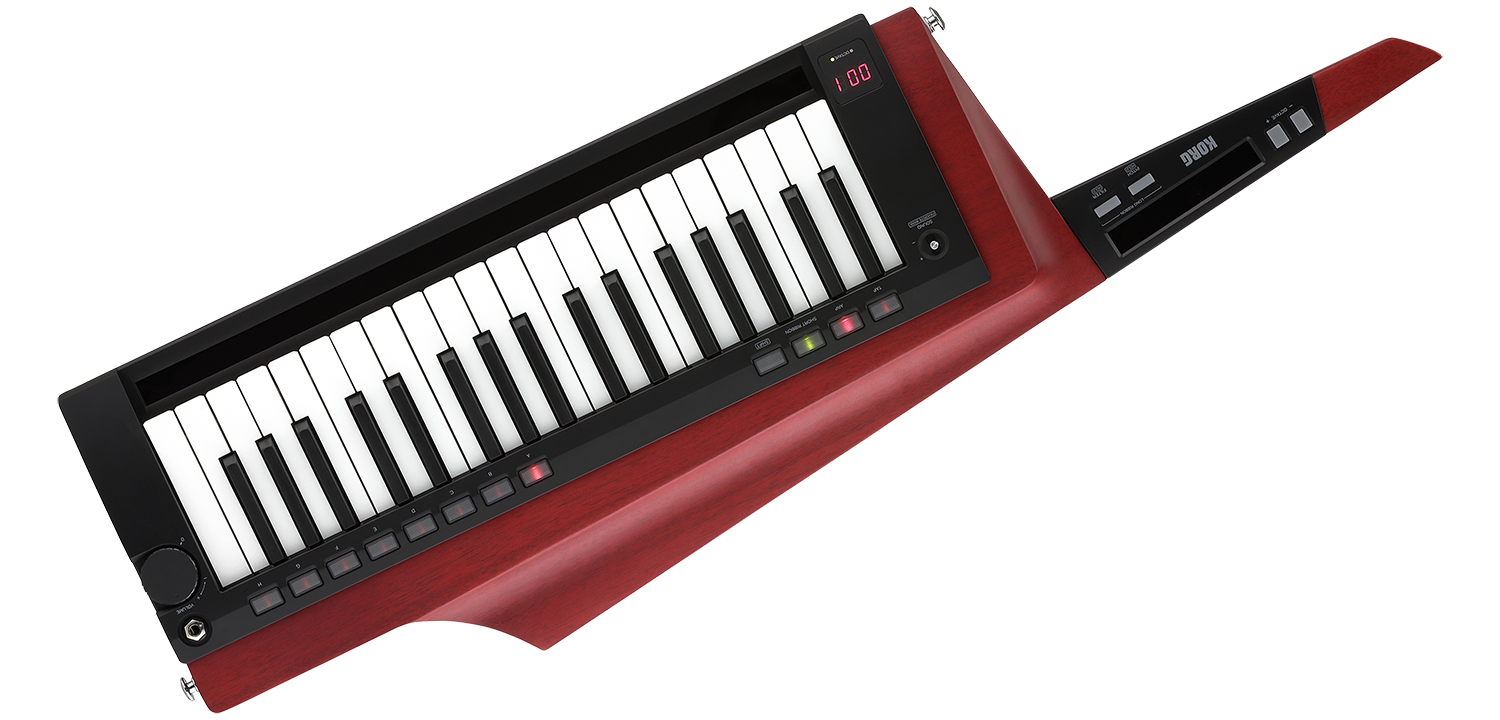 Look, there are a lot of keytars on the market. And for the average keytarist, one of the many all-plastic entry-level models out there will do the job. But for the connoisseur who appreciates the finer things in life, the only choice is Korg's new RK-100S 2, an update of the brand's classic keytar featuring built-in vocoder, a sound bank emphasizing lead sounds for maximum shredability, and a wood-construction body that lends an air of luxury and old-school gravitas to your wailing prog solos.
A FUZZ BOX THAT RUNS ON JAGERMEISTER
With something like 12 million boutique effects pedal brands on the market these days, it's hard to stand out from the crowd with just another riff on a vintage Tube Screamer. From Big Muff mods tweaked so far out that they sound broken to brain-twistingly complex delays, it's an arms race in the effects world to come up with the craziest sounds and the highest concepts. British pedal maker Rainger FX is known for its far-out designs, but the new Minibar overdrive is the farthest out yet: the circuit's tone and drive is set analyzing liquids poured into a receptacle above the footswitch. The demo unit at NAMM got a rich, dark distortion from a shot of Jager.
FENDER'S PSYCHEDELIC SCI-FI CREATIONS
Fender's first Parallel Universe collection imagined an alternate version of the brand's history of legendary guitars where a few different design decisions led to moderately interesting hybrids like a part-Strat-part-Tele. The new Parallel Universe II collection pushes the concept enough further out to really live up to the sci-fi-ness of its name. The space-age Maverick Dorado and Firebird-esque Spark-O-Matic Jazzmaster look like vintage finds from a slightly cooler timeline.
EARTHQUAKER'S PEDAL OF DOOM
The overlap between hardcore doom metal fans and rabid fuzzbox freaks is a perfect circle, and when cultishly adored Akron-based pedal maker EarthQuaker released a small run of the Life Pedal octave distortion/booster designed for Sunn O))) last year it unsurprisingly sold out in the blink of an eye. Now it's back in a more plentiful run so those of us who do things other than rip bongs and fight online over limited-edition doom metal merch can get in on the fun.
AN ACOUSTIC FLYING V
Is it for the shredlord looking for a quiet acoustic moment, or for the acoustic folkie who wants to spice up open mic night with some arena rock attitude? Either way, Takamine's almost psychedelically strange take on the Flying V will get the job done. 
A SYNTHESIZER BASED ON WHEELS, FOR SOME REASON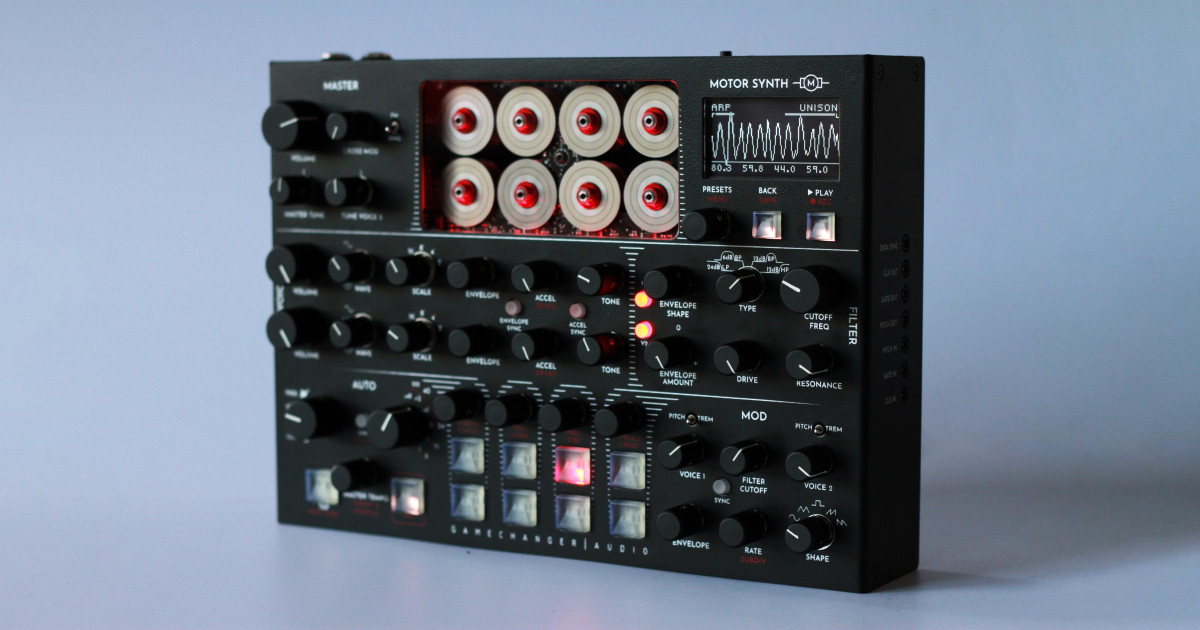 The appropriately named Gamechanger Audio makes gear that sounds like notes from a particularly effects-unit-centric mushroom trip: "distortion pedal that runs on high-voltage plasma," "light-based spring reverb," "synthesizer with wheels for a brain." The last one describes their new Motor Synth, "the world's first electro mechanical desktop synthesizer," according to the brand. Instead of producing sound through been-there-done-that means like oscillators or samples, it uses the physical property of actual mechanical wheels that you can watch spin through a cool little window in the unit to create frequencies. The fact that I don't really get how it works at all doesn't make me want it any less.
TINY AMPS
Amplifiers have been shrinking freakishly fast in recent years, to the point where amps capable of kicking out enough juice to power a full-blown rock show come small enough to toss in a backpack. For instance, the Milkman Sound Amp 100 fits an entire 100 watt tube/Class D hybrid guitar amp into a pedal form factor, while iconic amp makers Orange have managed to cram 500 watts of bass amplification into a 3kg package. As someone with the deeply fucked-up back of someone who spent the better part of their life hauling heavy-ass amps around the continent I am furious that these didn't exist 20 years ago.
THE DURST BURST LES PAUL
DURST. BURST. DURST. BURST. DURST. BURST. DURST. BURST. DURST. BURST. DURST. BURST. DURST. BURST. DURST. BURST. DURST. BURST. DURST. BURST. DURST. BURST. DURST. BURST. DURST. BURST. DURST. BURST. DURST. BURST. DURST. BURST. DURST. BURST. DURST. BURST.
---